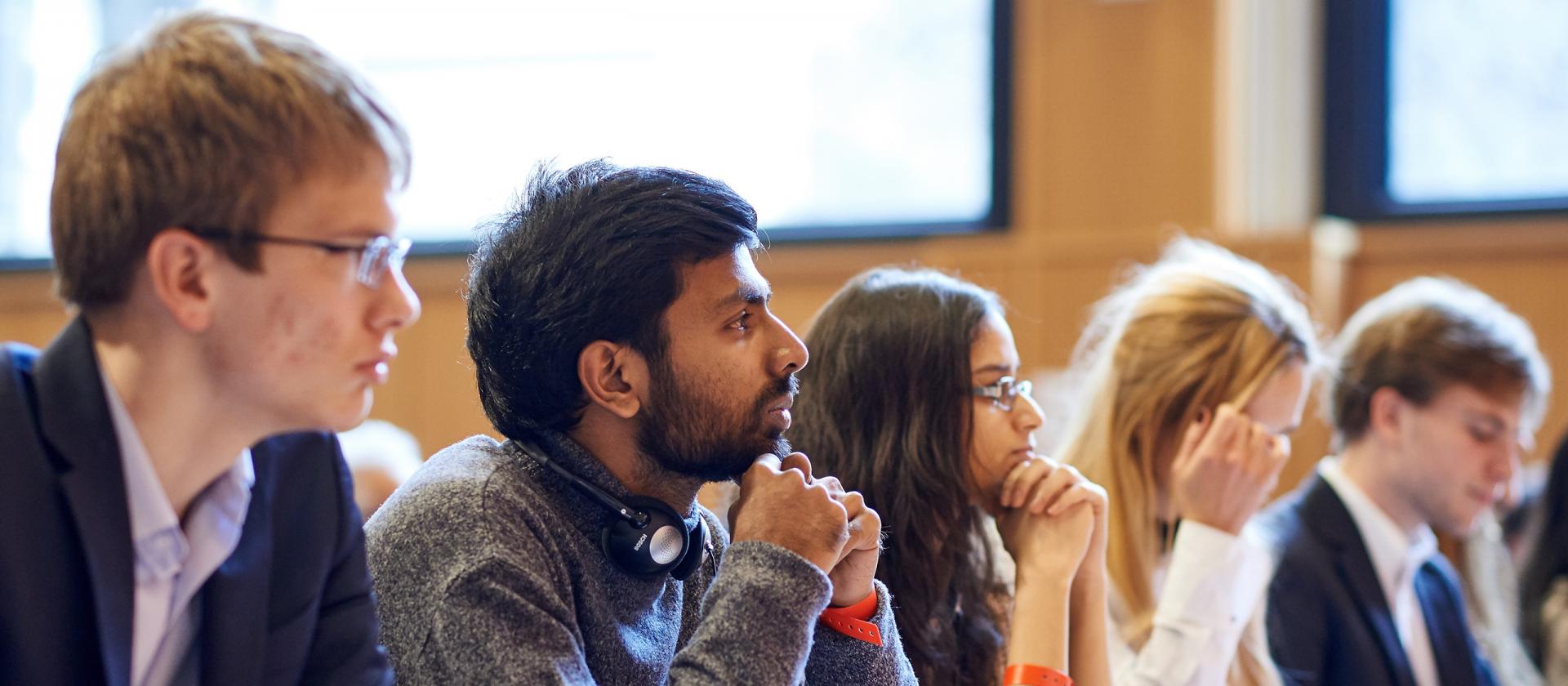 Other Grant Opportunities for Students and PhD
See below other grant and scholarship opportunities for transatlantic collaboration that might interest students and PhD candidates.
The Alliance Program encourages mobility in Paris or New York to all Master's degree students and PhD candidates from the four partner institutions. The Alliance Program may provide access to the institutions' libraries and resources for short-term visits, upon presentation of a letter of recommendation from the student's thesis advisor and a faculty sponsor at the partner institution.

Your application generally requires an updated Curriculum Vitae and a copy of the ID page of your passport. It takes approximately 5 business days to process.

Please contact us at alliance@columbia.edu for details about the application process.
Alliance funds collaborative student-led projects between two or more of the partner universities: Columbia University, Sciences Po, Paris 1 Panthéon-Sorbonne and École Polytechnique.
All students (Undergraduates, Master and PhD candidates in all majors) enrolled at Columbia University, Sciences Po, Paris 1 Panthéon-Sorbonne or École Polytechnique are eligible to apply. We accept applications on a rolling basis.
Applications must include:
Cover page including the project title and the e-mail and telephone number of project leads.
 
List of participating students, faculty, or researchers and their respective institutional affiliation. (If participation is not confirmed from attendees, please list the projected number of attendees).
 
Narrative (five pages maximum) describing the project, participating institutions, timeline, the relevance of transatlantic collaboration in the field and the project's potential for encouraging future endeavors between the institutions, including long-term institutional collaboration.
 
One-page budget detailing the cost allocation of the project with amounts specified by category (travel, accommodation, catering etc.) and a provisional timeline. Please also mention if the project intends to attract external funding.
Previously funded projects include:
Please send your applications and inquiries to alliance@columbia.edu
Open to third-year École Polytechnique students who have been admitted to the Alliance Research Internship Program.

This grant is offered in partnership with the Chaire for sustainable development at the École Polytechnique.

Alliance offers up to two scholarships of up to $1,000 each.
The two-year Master's Program in Renewable Energy at École Polytechnique instructs students on fundamental scientific concepts of renewable energy as well as the generation, storage, and distribution of energy. Columbia College students may apply to become part of this program in their third or fourth year.

École Polytechnique will award several scholarships (10,000 € per year) to outstanding students from Columbia. Application for the scholarship must be submitted along with application to the Master's program.
Jerome Lohez Foundation Scholarship
The Jérôme Lohez Foundation was launched in November 2005 in honor of Jérôme Robert Lohez, a French citizen who passed away in the North tower of the World Trade Center on Sept. 11th, 2001. The foundation's mission is to foster French and American unity and cultural understanding, by supporting scientific and technological exchanges in higher education, in honor of those citizens who perished in the 2001 attacks in New York. To learn more about the Foundation, please visit its website.
The foundation offers two scholarships of up to $3,000 to Alliance students enrolled in one of the dual-degree programs.
Henri De Castries Scholarship
Through the Henri de Castries Scholarship, Sciences Po will offer a merit-based scholarship for students in order to help them sustain their stay in France during their studies. Students enrolled in the Dual degree BA program between Sciences Po and Columbia may apply.
The $10,000 scholarship is awarded on an annual basis.
The first Henri de Castries Scholarship will be awarded in 2017.
For more information, please visit Sciences Po.
AXA Research Fund
The AXA Research Fund provides grants for research institutions, projects and Chairs, as well as doctoral and postdoctoral fellowships, with the mission to boost scientific progress and discoveries that contribute to understanding and preventing environmental, life, and socio-economic risks. Projects must fit one of these three categories of risk identified by the AXA Scientific Board, but can come from any discipline.
For more information, please visit the AXA Reasearch Fund website .
Calls for the 2017 campaign will begin at the end of 2016.
Chateaubriand Fellowship Program
The Chateaubriand Fellowship is a grant offered by the Embassy of France in the United States. Every year, it allows doctorate students enrolled in American universities to conduct research in France for up to 10 months. The Science, Technology, Engineering and Mathematics (STEM) fellowship program and the Humanities and Social Sciences (HSS) fellowship program have different modes of selection but they are both merit-based and highly prestigious. Chateaubriand recipients receive a stipend, a round trip ticket to France, and health insurance.
For more information, please visit the program website.
Fulbright Programs
The Fulbright U.S. Student Program offers fellowships for U.S. graduating seniors, graduate students, young professionals and artists to to conduct research and study abroad in the United States for one academic year. A mainstay of America's public-diplomacy efforts, it brings citizens of other countries to the United States for Master's degree or PhD study at U.S. universities or other appropriate institutions. The Program also includes the English Teaching Assistant component. For more information, please visit the program website.
Please note that Columbia students must submit an online application in order to seek University nomination for the Fulbright IIE Scholarship.
Instructions for how to apply are available here. The deadline for application to the Fulbright Foreign student program is in December for undergraduate/master students and February for doctoral students.
Institut Des Amériques Doctoral Contracts And Project Applications
Doctoral contract, research funding and project opportunities for students and researchers at institutions that are members of the Institut des Amériques (including Sciences Po and Panthéon-Sorbonne University). For more information, please visit the Institut des Amériques website.
Applications are usually due in early September for doctoral contract applications and late September for project and funding applications.
Fernand Braudel-IFER Postdoctoral Fellowships
The Fernand Braudel-IFER programme offers postdoctoral fellowships to researchers in the social and human sciences (SHS) who wish to have an international research experience. The Fernand Braudel-IFER incoming programme is intended specifically for foreign researchers who wish to benefit from a research stay in France.
Incoming applications are accepted at a number of laboratories at Panthéon-Sorbonne University (IPOPS, HASTEC, RESMED) and Sciences Po (IDDRI). Please consult the fellowship offering for a detailed list.      
Thomas Jefferson Fund
The French Embassy and the FACE Foundation launched in 2017 the Thomas Jefferson Fund to support new collaborations and the most innovative projects between promising young researchers in France and the United States. The Thomas Jefferson Fund aims to foster forward-looking collaborative research in the fields of Humanities and Social Sciences, of Science, Technology, Engineering and Mathematics and of Science for Society that addresses the most pressing global challenges.