Alliance & Columbia Global Centers | Paris Writing Workshop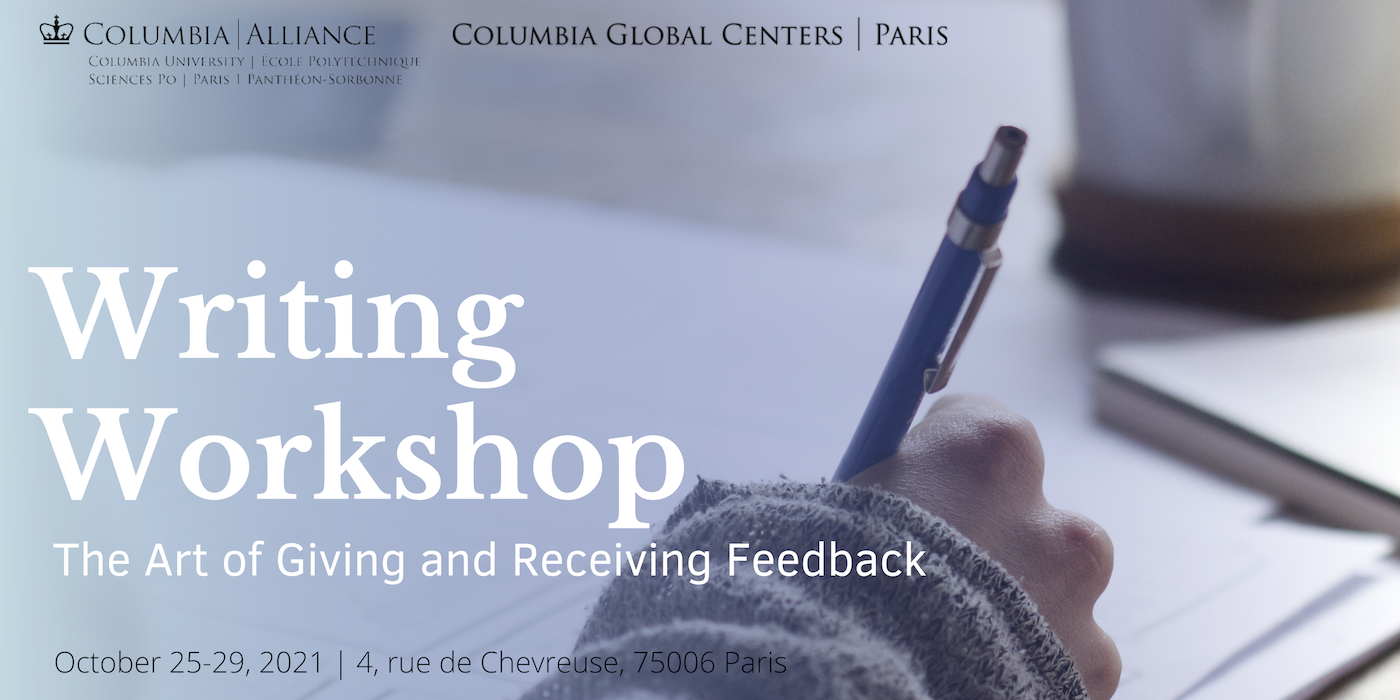 Ready to Workshop Your Writing?
The Art of Giving and Receiving Feedback 
Monday, October 25 – Friday, October 29, 2021
Application deadline: Monday, October 18, 2021
Are you currently working on an academic article, conference paper, or chapter of your dissertation in English which may benefit from fine-tuning and the feedback of others?
Under the guidance of your writing instructor, Hiie Saumaa (PhD, Columbia University), you will develop new academic writing skills, and learn to participate in an academic group setting. Each participant will bring to the workshop a piece of academic writing that they would like to address. The workshop will help you to revisit your writing, seeing it from different vantage points. Through dialogue and questioning, we will determine how to best use your voice, analyze your examples, word your argument, and hold a reader's attention. 
Schedule:
Monday: 7pm, welcome reception 
Tuesday - Friday: 10am - 1pm, group sessions
Tuesday - Thursday: 2pm - 5pm, individual consultation sessions by appointment
Friday: 1pm - 2:30pm, end-of-program lunch
Program Fees:
100 € 
Structure: 
This workshop includes four 3-hour morning sessions for the entire group, and 30 – 40 minute individual consultations with the workshop leader in the afternoons.
In each 3-hour group session, the group will analyze the papers of 3 participants whose work will have been read in advance. The success of a workshop of this nature depends on the active participation of each member. This collaborative format is widely practiced in the United States. 
In addition to analyzing the work of 3 participants in each group session, there will be discussions on topics relating to the creative process, healthy writing habits, the publishing process, and whether and how to respond to and offer feedback. For example, what is the difference between feedback and criticism? What is "constructive feedback"? How do we know when not to respond to someone's feedback? When is the right time to expose one's ideas and writing to someone else? How do we deal with emotions that might surface when we hear other people's comments? 
These themes will be determined at the beginning of the workshop, based on the needs of the participants.
The afternoon consultations, by appointment only, are an opportunity to discuss your writing one-on-one with Dr. Saumaa.
Objectives: 
Offer new ideas for your paper and ways to strengthen its voice, form, and structure
Hone your skills in giving and receiving feedback
Increase your self-assurance when exposing your work to others
Build your confidence as a writer and speaker in the English language
Help you navigate an American-style seminar and become a more efficient, skilled, and engaged member of a discussion
Motivate you to continue your work as a writer and reconnect you to the creative process
Application Requirements: 
The application is open to currently enrolled graduate students in the humanities and social sciences at an Alliance partner institution (Columbia University, École Polytechnique, Sciences Po, or Université Paris 1 Panthéon-Sorbonne). [Note: Applicants not enrolled at an Alliance partner institution may apply.]

Please submit a piece of academic writing (e.g. a dissertation chapter, journal article, conference paper draft) in English that you would like to develop in this workshop (minimum 3 pages - maximum 15 double-spaced pages).
Certification of Completion
Each participant will receive a certificate of completion from the Alliance Program and Columbia Global Centers | Paris.
To ensure that the workshop is a success for everyone involved, each participant is expected to attend all 4 group sessions, actively participate in class discussions and be an attentive member of the group, come to the sessions prepared to give feedback on the work of the other participants, and be responsible for monitoring the tone of this written and spoken feedback. 
For workshop-related questions, please contact Dr. Hiie Saumaa at [email protected]
---
Instructor Bio: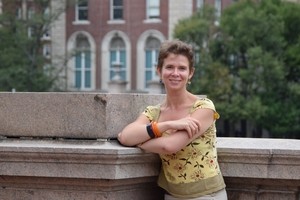 Hiie Saumaa, (PhD, Columbia University), is a writer, scholar, and educator. Originally from Estonia, she writes and publishes in the English language for academic and general audiences. Hiie writes about the creative process, dance, movement, health, and the imagination. Her academic articles have been published in international peer-reviewed journals such as Dance Research Journal, Dance Chronicle, The Journal for Dance, Movement & Spirituality, The Journal of Dance and Somatic Practices, and The Routledge Companion to Dance Studies. She writes a regular column for the journal Alternative and Complementary Therapies and is completing a book manuscript on the creative process of the choreographer Jerome Robbins. In 2018 – 2019, she was an inaugural fellow at Columbia's Institute for Ideas and Imagination in Paris and an artist-in-residence at the Cité Internationale des Arts in Paris. Hiie has taught writing at Columbia University, New York University, Paris College of Art, Emlyon Business School, and L'institut Mines-Télécom. In 2021, she taught an intensive writing seminar titled "Writing for a New Audience: Starting Your Life as a Writer in the English Language" through the Alliance Program and Columbia Global Centers | Paris. As a certified instructor of mindful movement and dance practices, she views dance as an integral part of her creative process and teaches classes in unlocking creativity through movement, intuition, physical awareness, and writing.